GHRC hosts a long-term record of daily and monthly average global temperatures at four levels of the atmosphere, derived from a series of Microwave Sounding Units (MSU, Advanced MSU) flown on NOAA and NASA satellites from 1979 through the present.
Temperature observations from ground-based and airborne instruments are also available from the GPM Ground Validation and Hurricane Science field campaign data collections.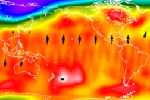 Global temperatures at multiple atmospheric levels.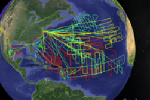 Surface and airborne temperature measurements.