The GPM Ground Validation NASA Micro Rain Radar (MRR) is a vertically pointing Doppler radar which provides measurements of vertical velocity, drop size distribution, rainfall rate, attenuation, liquid water content, and reflectivity factor obtained during the GPM Cold-season Precipitation Experiment (GCPEx), which took place in Canada during Winter 2011-2012. The MRR is a frequency-modulated continuous wave (FMCW) vertically pointing Doppler radar, which operates at 24.24GHz, and it is the second generation of the instrument manufactured by METEK (http://www.metek.de/product-details/mrr-2.html). NASA MRR data was collected from late October 2011 through March 2013.
Please include the following citation in the reference section of your publication:
Petersen, Walter A, Claire Pettersen, Mark Kulie, Patrick N Gatlin and Matthew T. Wingo. 2015. GPM GROUND VALIDATION NASA MICRO RAIN RADAR (MRR) GCPEX [indicate subset used]. Dataset available online from the NASA Global Hydrology Center DAAC, Huntsville, Alabama, U.S.A. 
DOI: http://dx.doi.org/10.5067/GPMGV/GCPEX/MRR/DATA201
For more information on GHRC DAAC citations, see these Instructions for citing GHRC data.
General Characteristics
| | |
| --- | --- |
| Retirement Date: | 2015-05-13 |
| Collections: | GPM-GV GCPEx Products, Radar Products |
| Projects: | GCPEX |
| Platforms: | GROUND STATIONS |
| Instruments: | MRR |
| Parameters: | DOPPLER VELOCITY, HYDROMETEORS, PRECIPITATION RATE, RADAR BACKSCATTER, RETURN POWER |
| Processing level: | 2 |
| Format: | ASCII |
Coverage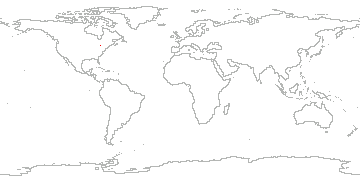 Red dots or areas indicate coverage range.
| | |
| --- | --- |
| Location: | CANADA |
| Spatial resolution: | 35 m vertical |
| North boundary: | 44.69° |
| West boundary: | -79.93° |
| East boundary: | -79.64° |
| South boundary: | 44.17° |
| Temporal resolution: | DAILY |
| Start date: | 2011-10-24 |
| Stop date: | 2012-03-13 |