The Non-Quality Controlled Lightning Imaging Sensor (LIS) on International Space Station (ISS) Science Data were collected by the LIS instrument on the ISS used to detect the distribution and variability of total lightning occurring in the Earth's tropical and subtropical regions. This dataset consists of science data. These data can be used for severe storm detection and analysis, as well as for lightning-atmosphere interaction studies. The LIS instrument makes measurements during both day and night with high detection efficiency. The data are available in both HDF-4 and netCDF-4 formats.

These ISS LIS beta data are retired and replaced by ISS LIS provisional data. The use of "beta" indicated that the algorithm was still under development and the data may have contained errors. Please do not use for research leading to publications or presentations without consent and provide feedback directly to the data provider. Quality controlled data will be avialable at a later date.


Please include the following citation in the reference section of your publication:
Blakeslee, Richard J., Douglas M. Mach, Michael F. Stewart, Dennis Buechler and Hugh Christian. 2017. Non-Quality Controlled Lightning Imaging Sensor (LIS) on International Space Station (ISS) Beta Science Data [indicate subset used]. Dataset available online from the NASA Global Hydrology Center DAAC, Huntsville, Alabama, U.S.A. 
DOI: http://dx.doi.org/10.5067/LIS/ISSLIS/DATA203
For more information on GHRC DAAC citations, see these Instructions for citing GHRC data.
General Characteristics
| | |
| --- | --- |
| Publication Date: | 2017-08-25 |
| Version: | b0 |
| Collections: | Lightning Products |
| Projects: | LIS |
| Platforms: | ISS |
| Instruments: | LIS |
| Terms: | Atmospheric Electricity, Weather Events |
| Processing level: | 2 |
| Format: | Various: HDF-4, netCDF-4 |
Coverage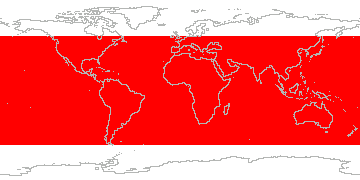 Red dots or areas indicate coverage range.
| | |
| --- | --- |
| Location: | TROPICS |
| Spatial Resolution: | 4-8 km |
| North boundary: | 54° |
| West boundary: | -180° |
| East boundary: | 180° |
| South boundary: | -54° |
| Temporal resolution: | Daily - < Weekly |
| Start date: | 2017-03-01 00:00:00 |
| Stop date: | 12-08-2017 |