GHRC recently acquired the Level 1 Tropical Rainfall Measuring Mission (TRMM) Tropical Cyclone Precipitation Feature (TCPF) Database , which provides TRMM-based tropical cyclone swath data. The TCPF Level 1 dataset marks the shift in GHRC's direction towards the new focus of hazardous weather.

TCPF Home Page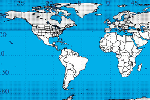 This page provides a "point and click" method to quickly perform a space time domain search of LIS science products.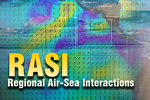 Regional Air-Sea Interactions (RASI) is an interactive tool for investigating coastal mountain gap wind events and resulting sea surface temperature changes due to ocean upwelling. RASI provides remote access and browsing of a climatology of gap wind and coastal ocean upwelling events.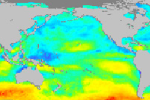 The Distributed Information Services for Climate and Ocean Products and Visualizations for Earth Research (DISCOVER) is a NASA Earth Science MEaSUREs project.