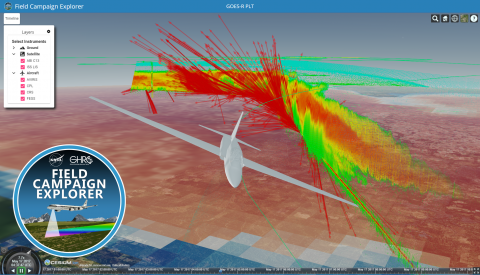 The Field Campaign Explorer (FCX) is a flight re-enactment tool that can be used to discover, visualize, and obtain field campaign data and information. It was initially designed for the HS3 field campaign, a project focused on learning more about hurricane intensification. It has been recently rearchitected to a cloud native architecture and it currently supports visualizing data from
GOES-R PLT
 and
Olympic Mountains Experiment
 field campaigns. The FCX makes use of science data collected from instruments onboard aircrafts, ground sensors, and satellites. The instrument data are displayed within an interactive map viewer along flight tracks. This advanced tool reduces the effort involved in discovering data, is designed for event-based research, allows for seamless movement between data visualization, discovery and acquisition, and enhances the user experience by improving the usability of heterogeneous data.  
FCX is currently in beta status and is under active development.
The functionality to subset and download data granules, view flight reports, and view data from additional field campaigns is being developed. 
Demonstrations: