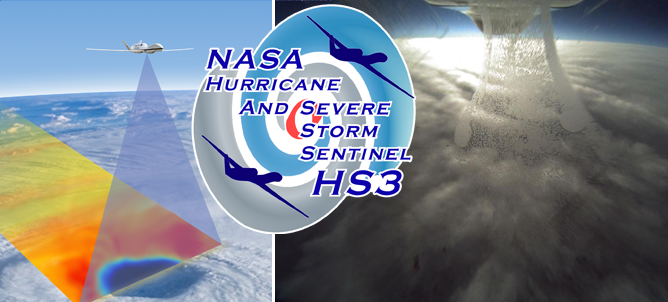 Hurricane and Severe Storm Sentinel (HS3) is a NASA airborne field campaign aimed at better understanding the physical processes that control hurricane intensity change. HS3 will help answer questions related to the roles of environmental conditions and internal storm structures to storm intensification. Due to the nature of the questions that HS3 mission is addressing, it involves a variety of in-situ, satellite observations, airborne data, meteorological analyses, and simulation data. HS3 is a 5-year mission with three observation years (2012, 2013, 2014).
Instrument data will be available at GHRC in early 2015.
A specialized data system is currently in the works.The Global Hydrology Resource Center (GHRC) is considering all these needs in designing a data system for HS3 based on experience with past airborne field campaigns. To address the science questions, the data system will include a visual data exploration tool that is fully integrated into the data catalog. The tool will allow visually augmenting airborne data with analyses and simulations. All HS3 tools will be supported by an enterprise service architecture that will allow scaling, easy integration of new tools and existing services, and integration of new ESDIS metadata and security guidelines.
Measurements
2 Global Hawk UASs carry separate environmental and over-storm payloads:

Environment Payload

S-HIS
High-resolution Interferometer Sounder

AVAPS
Airborne Vertical Atmospheric Profiling System

CPL
Cloud Physics Lidar                

Over-storm Payload

HIWRAP
High-Altitude Imaging Wind and Rain Airborne Profiler

HIRAD
Hurricane Imaging Radiometer

HAMSR
High-Altitude MMIC Sounding Radiometer
For an overview of the HS3 data system architecture, please see the image below or click it to view a larger version: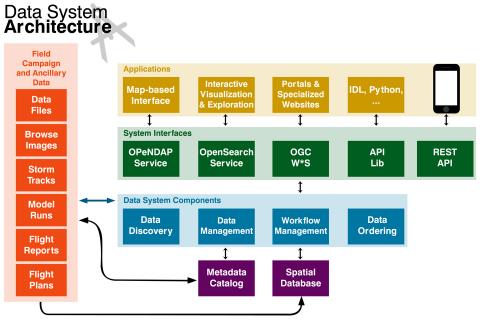 Data & Information
HS3 information at NASA's Earth Science Project Office