In order to increase security for NASA EOSDIS users and provide a more uniform experience across data offerings, EOSDIS is making a change to the way in which NASA Earth Science data are downloaded. As part of this effort, GHRC data will become available over HTTPS.
All of the GHRC data that are publicly accessible and free of charge and will continue to be so-however, you now need to register with the EOSDIS Earthdata Login system to download GHRC data through our HyDRO tool. This registration is free and open to the public. Also note that cookies must be implemented and enabled in your browser when using the Earthdata Login.  For more details, please visit the Earthdata Login site, or register. EOSDIS has provided a FAQ about this technology. Feel free to contact GHRC User Services for additional help or concerns.
Below, you will find our Earthdata Login Recipe (also known as a tutorial) illustrating sample scenarios for the new Earthdata Login process while accessing our data.
Different tools are needed to perform bulk download of files with HTTPS than with FTP. For this reason, you may wish to use a download manager application such as the multi-platform, open-source uGet Download Manager Another option is a browser plugin such as DownThemAll, available for Firefox. (Please note, GHRC is not affiliated with the providers of these resources).
Also available is a technical guide covering how to access data behind Earthdata Login with cURL and Wget.
In addition to the recipe below, EOSDIS has provided an example on their Earthdata Login documentation page (about 1/3 down the page).
Accessing GHRC data through HyDRO with Earthdata Login
HyDRO will continue to function as normal. A special notice, shown here, has been added to help inform you of the Earthdata Login mechanism, and will remain displayed during the period of transition.
You may continue to add items to your HyDRO cart as usual; here, we have selected "ACES Continuous Data" and added it to the cart.

When you are satisfied with the selections in your cart, you should click the "Show Order" button. This button appears in multiple contexts during your interaction with HyDRO.

The next HyDRO screen will allow you to modify and review your order. When you are satisfied with your order, click the "Place Order" button.
You will now be directed to the new Earthdata Login screen. Shown below within a green rectangle are options to remain signed into the Earthdata Login system, register for a free Earthdata Login account if you don't already have one, and to log in with an existing Earthdata Login account.
Once you log into the previous screen with your Earthdata Login information, the Earthdata Login system will process your request as shown here: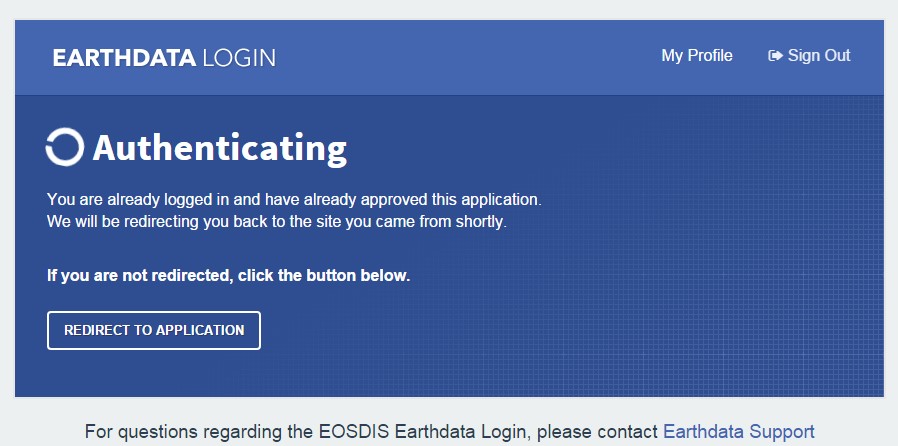 And you will be returned to your order in the HyDRO system, where your name and email will be pre-filled for you according to your Earthdata Login information: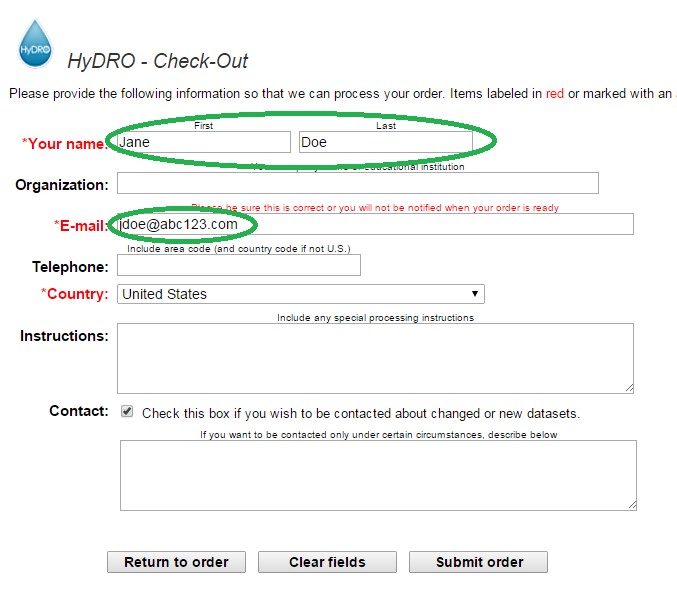 From here, you may submit your order as usual with the "Submit order" button, and HyDRO will send you an email with further instructions about how to retrieve your data (this process remains unchanged).
Please contact GHRC User Services for concerns, or if you are in need of help during this transition.
If you have technical problems concerning the Earthdata Login itself, the best way to get help is to contact the EOSIDS support team directly at support@earthdata.nasa.gov.