The Tropical Cloud Systems and Processes (TCSP) mission was an Earth science field research investigation sponsored by the Science Mission Directorate of the National Aeronautics and Space Administration (NASA). The field phase was conducted during the period July 1-27, 2005 out of the Juan Santamaria Airfield in San Jose , Costa Rica. The TCSP field experiment flew 12 NASA ER-2 science flights, including missions to Hurricanes Dennis and Emily, Tropical Storm Gert and an eastern Pacific mesoscale complex that may possibly have further developed into Tropical Storm Eugene. The P-3 aircraft from the NOAA Hurricane Research Division (HRD) flew 18 coordinated missions with the NASA research aircraft to investigate developing tropical disturbances. Additionally, the Aerosonde uninhabited aerial vehicle flew 8 surveillance missions and the Instituto Meteorologico Nacionale (IMN) of Costa Rica launched RS-92 balloon sondes daily to gather humidity measurements and provide validation of the water vapor measurements.
You may click here to view a sample of GOES imagery over Central America.
TCSP was focused on the study of the dynamics and thermodynamics of precipitating cloud systems and tropical cyclones using NASA-funded aircraft and surface remote sensing instrumentation. Targeted data sets were collected using the NASA ER-2 research aircraft, in synergy with other surface and airborne remote sensing observations provided by NASA and other agencies. These observations will be used to answer key questions pertaining to the origins and lifecycle of weather disturbances in the tropics. Analyses of data sets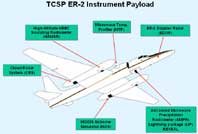 will address a wide variety of atmospheric space and time scales, ranging from the convective through the synoptic. Investigations will also be conducted to improve upon numerical modeling studies of tropical cyclogenesis, including wave-to-depression transition in the western Caribbean, Gulf of Mexico and Eastern Pacific Oceans.
TCSP research addressed the following topical areas: 1) tropical cyclone structure, genesis, intensity change, moisture fields and rainfall; 2) satellite and aircraft remote sensor data assimilation and validation studies pertaining to development of tropical cyclones; and 3) the role of upper tropospheric/lower stratospheric processes governing tropical cyclone outflow, the response of wave disturbances to deep convection and the evolution of the upper level warm core.
The TCSP experiment built upon the success of the previous Convection and Moisture Experiment (CAMEX) missions.
Dr. Ramesh Kakar, Weather Focus Area Lead within the Earth-Sun Systems Division of the NASA Science Mission Directorate, was the TCSP Program Manager. TCSP was conducted in collaboration with the National Oceanic and Atmospheric Administration (NOAA) Hurricane Research Division and the National Center for High Technology (CeNAT).
DOI:
http://dx.doi.org/10.5067/TCSP/DATA101
---
La misión Sistemas y Procesos de Nubes Tropicales (TCSP)
San José, Costa Rica
Verano 2005
La misión Sistemas y Procesos de Nubes Tropicales, conocida por su siglas en inglés como TCSP (Tropical Cloud Systems and Processes), es una investigación de campo auspiciada por la Dirección de Misiones Científicas de la Administración Nacional del Espacio y Aeronáutica (NASA) y se realizará del 1 al 28 de julio del 2005 en Costa Rica.
El proyecto tiene la colaboración de la División de Investigación de Huracanes (HDR) de la Administración Nacional de Oceánica y Atmósfera (NOAA) y está auspiciada por el Dr. Ramesh Kakar, Director del Programa de Dinámicas Atmosféricas y Sensores Remotos de la NASA. Su desarrollo se debe al éxito obtenido por estudios previos llamados CAMEX (Experimentos de Convección y Humedad).
En Costa Rica esta investigación está apoyada por el Centro Nacional de Alta Tecnología (CENAT) por medio de su Programa Nacional de Investigaciones Aerotransportadas y Sensores Remotos (PRIAS) el cual dirige el Dr. Jorge Andrés Díaz.
Aviones de la NASA y de HRD de NOAA, volarán en conjunto para estudiar la forma en que se desarrollan los disturbios atmosféricos tropicales y su base será el Hangar Nacional de Investigaciones Aerotransportadas (HANIA) localizado en el Aeropuerto Internacional Juan Santamaría. A su vez, la NASA y el Instituto Meteorológico Nacional (IMN) de Costa Rica, enviarán equipos de radiosondas para recopilación de datos atmosféricos con el apoyo de estudiantes de la Universidad de Costa Rica y la Universidad Nacional y elaborarán predicciones meteorológicas para la planeación de los vuelos científicos.
El objetivo de esta misión es el estudio de la precipitación dinámica y termodinámica del sistema de nubes, incluyendo la formación de ciclones tropicales. Los datos se obtendrán por medio del avión especializado de la NASA, ER-2 que, a través de herramientas sensibles de control remoto, recopilará información y permitirá la observación de dinámicas atmosféricas.
Estas observaciones servirán para contestar preguntas claves con respecto a los orígenes y ciclos de vida de los disturbios climatológicos en los trópicos. El área en la que se tomarán los datos cubre una variedad atmosférica que permitirá estudiar diferentes escalas de tiempos y espacios y la relación de agentes conductores.
La investigación de TCSP en Costa Rica está dirigida por el Ing. Michael Gaunce, administrador del proyecto y abarca los siguientes temas:
La estructura de los ciclones tropicales.
La asimilación de datos y la validez de estudios pertenecientes al desarrollo de ciclones tropicales recopilados a través de satélites y herramientas de áreas sensibles.
El papel que desempeña la troposfera superior y estratosfera inferior en los procesos que gobiernan el flujo de ciclones tropicales, en las respuestas a niveles profundos en los disturbios de las olas y en la evolución a nivel superior del calentamiento central.
Dicha información servirá, al mismo tiempo, como apoyo y mejoramiento de investigaciones realizadas para el modelo de la formación tropical de ciclones, que incluye el estudio de la depresión causada en las olas, que va desde la zona del Caribe y el Golfo de México hasta el Este del Océano Pacífico.