UAV Platform
The ALTUS UAV system consists of one ALTUS aircraft, one Ground Control Station (GCS), one Ground Data Terminal (GDT), and Ground Support Equipment (GSE). A typical setup is illustrated in the figure below. Presently ALTUS can operate at a maximum range of approximately 125 n mi.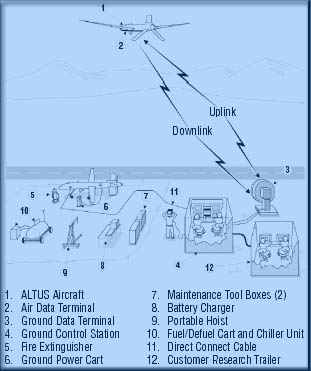 This poses no limitation for the proposed Florida (or an Alabama) deployment since we would like to remain within 200 km of the center of the ground-based network. A C-band Line-of-Sight (LOS) data link provides two uplink and two downlink data streams to establish full duplex communication between the ALTUS aircraft and the GCS. Normally, one uplink and two downlinks are utilized.
Advantages of the ALTUS Over Alternate Platforms for Storm Investigations
The performance characteristics of the ALTUS, including some very unique capabilities, make this UAV ideally suited for pursuing the proposed thunderstorm studies. The performance characteristics include high-altitude flight, long-duration missions with long "on station" time, slow flight speed, and quick response time. No other aircraft platform has this combination of capabilities, essential for acquiring complete storm life cycle observations.